Vadakkumnathan temple is an ancient Hindu temple dedicated to lord Shiva at the city of Trissur of kerala state in India. Monumental towers, murals depicting episodes of mahabaratha are unique features of this temple. This is the temple built by Parashurama the sixth incarnation of mahavishnu. This temple is also a venue for trissur puram.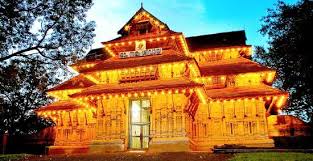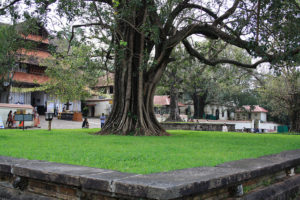 Archeological survey of India has recommended vadakkumnathan temple as one of the 14 sites in the list of UNESCO heritage sites.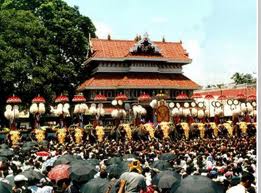 According to some accounts, varuna( deity of rain) asked parashurama to hurl his axe into the sea. Parashurama wanted to consecrate this new land. He went to kailasa to his guru Shiva and requested him to take abode in the region. Shiva along with his consort parvathi and ganesha went to satisfy the desire of his disciple and came to the spot of now called trissur. Parashurama saw a radiant Shiva Linga at the feet of the banyan tree. It remained there for a long period of time until the king of cochin decided to shift the Linga and enclose it in the temple about 1300 years ago.
Adi shankara is believed to have been born to the Shiva guru and Aryamba couple from kalady in answer to their tapasya for 41 days in vadakkumnathan temple. Adi shankara attained videha mukthi (freedom from embodiment) in this temple.
Uniqueness of this deity
The statue of Shiva is the form of huge lingam and is not visible. It is covered under a mound of ghee(melted butter), formed by daily abhishekamof ghee over the years. A devotee looking into the sanctum can now see only a 16 foot high mound of ghee embellished with 13 cascading crescents of gold and 13 hoods at the top. This represents the snow clad mount kailash. It is said that the ghee offered here for centuries does not have any foul odor and does not melt even during summer.
Invasion of Tipu sultan
During the invasion of Tipu sultan in the 18th century, he somehow did not attack this temple. His army could not proceed towards the temple precinct. The recent studies show that that British rulers created this story to create communal rift. Tipu sultan had a short stay in trissur while travelling towards Travancore in 1789. He borrowed cooking vessels from the temple to feed his army and was awe struck by the grandeur of the temple. On leaving trissur he not only returned the vessels but presented a huge bronze lamp to the temple.
"Life" in your handMs. Vasantha Vaikunth
Comments
comments