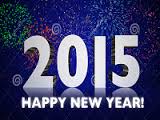 The 31st December night of every year is the most happening day in people's lives. We humans celebrate only the last day of the year, make new resolutions, give warm hugs, and make sure we spend time with people you wish to. We have the opportunity to remain happy 364 days before that, but we seldom make use of the time given to us. We want to share love, peace, kindness only on that one night and the rest of the year becomes monotonous and valueless. Are the human actions only ritualistic and mechanical?
Every day is a new day in a man's life as he is not aware of what is in store for him. Life becomes interesting and challenging. New Year celebrations have become mere display of lights, bashes, dances, DJs, balloons and fireworks. The leaping of time into the New Year has greater meaning and it indicates your overall progress in life that includes mind and consciousness. It is the time to evaluate your productivity in the internal world. Why do people want to celebrate only on the day of the New Year? Every day is a celebration and this thought helps us to look at the world in a positive way.
There will be a vacuum if we are not aware of the temporary nature New Year bash, as after the celebration, the mind goes into nothingness The mind carries a sense of loss even after a jubilant night. The mind is dependent on the external stimuli and the human demands increase with every action. If we internalize our happiness, there is unlimited joy and that is the ultimate truth of life. Make your life joyous and be kind to yourself by celebrating every moment of your life. Think out of the box and be a happy positive person that you are and bring in the New Year with full of zest.
"Life" in your handMs. Vasantha Vaikunth
Comments
comments